What You Need to Know about Government Shutdowns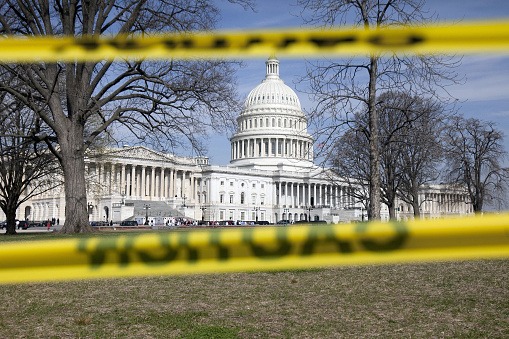 When there is a government shutdown, what does it mean for you? Which offices and agencies are operating as usual and which of them are shuttered until it's over?
Here's all you need to know:
What is a government shutdown?
A government shutdown is an official closure of all non-essential government offices due to a lack of approval of the federal budget for the approaching fiscal year. The shutdown cannot be resolved until a compromise is reached and a spending bill is passed.
What happens to government employees?
Thousands of federal workers are placed on furlough or unpaid leave. In previous shutdowns, furloughed government workers were paid retroactively once the shutdown ended.
Which government agencies are affected by a shutdown?
All essential government agencies are running as usual during shutdowns, though many employees are not getting paid for work done. Here's how a shutdown will affect various federal agencies and divisions:
1.) Military
The military is considered essential, and all overseas operations are executed as usual. Military personnel are expected to report to work as usual and will be paid in full unless the shutdown stretches on.
2.) Veterans' Affairs
More than 335,000 of the VA's 377,000 employees are expected to continue working throughout a shutdown.
3.) Social Security
Social Security checks will be distributed on schedule, and most of the SSA's staff will continue to work despite a shutdown.
4.) Postal Service
The Postal Service is not affected by a shutdown.
5.) The Justice Department
Criminal litigation proceeds as planned throughout shutdowns.
6.) Housing and Urban Development
Only 300 of the Department of Housing and Urban Development's 7,800 employees are exempt from furloughs. The department will therefore continue to provide essential services, but private applications are likely to be delayed.
7.) Education
The DOE's contingency plan calls for upward of 90% of its staff to be furloughed during the first week of a shutdown.
8.) Passports and visas
Passport and visa applications will be processed as usual, but many applications will be delayed due to the shuttering of some processing facilities.
9.) White House
During the January 2018 shutdown, 1,056 members of the Executive Office of the President were placed on furlough, while 659 workers were considered essential and continued to report to work.
10.) TSA, air traffic control and Homeland Security
The TSA and air traffic control are deemed essential and will operate as normal. Most of the Department of Homeland Security's employees also continue working as usual.
11.) National parks and landmarks
National parks, recreation areas and monuments remain in full operating mode. However, most national landmarks will be closed.
Economic effect
Government shutdowns have always had a negative effect on the economy. However, each shutdown is different due to length and reach of impact.
Congress works hard to reach agreeable budget plans. Hopefully, agreement is quickly achieved when a shutdown does occur so it comes to an end with as little impact as possible.
Your Turn: Did the most recent government shutdown affect you or someone you know?
« Return to "Blog Home"